A beefy anodized aluminum frame, nylon support straps, and antimicrobial foam upholstered in resilient canvas or taupe Sunbrella fabric team up to make an outdoor seating solution. Choose from grey frame/canvas fabric or carbon frame/taupe fabric.
Sunbrella fabrics are as stunning as the great outdoors, with the strength to withstand the elements and all of life's moments (even the ones that require cleaning with bleach). 
Also available in armchair, ottoman and sectionals.
Meet the Jibe the collection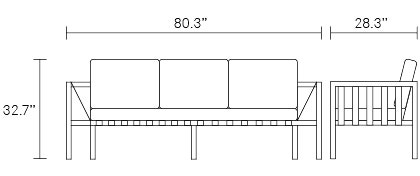 BluDot. USA